December 2017
S
M
T
W
T
F
S
1
2
3
4
5
6
7
8
9
10
11
12
13
14
15
16
17
18
19
20
21
22
23
24
25
26
27
28
29
30
31
January 2018
S
M
T
W
T
F
S
1
2
3
4
5
6
7
8
9
10
11
12
13
14
15
16
17
18
19
20
21
22
23
24
25
26
27
28
29
30
31
February 2018
S
M
T
W
T
F
S
1
2
3
4
5
6
7
8
9
10
11
12
13
14
15
16
17
18
19
20
21
22
23
24
25
26
27
28
March 2018
S
M
T
W
T
F
S
1
2
3
4
5
6
7
8
9
10
11
12
13
14
15
16
17
18
19
20
21
22
23
24
25
26
27
28
29
30
31
April 2018
S
M
T
W
T
F
S
1
2
3
4
5
6
7
8
9
10
11
12
13
14
15
16
17
18
19
20
21
22
23
24
25
26
27
28
29
30
May 2018
S
M
T
W
T
F
S
1
2
3
4
5
6
7
8
9
10
11
12
13
14
15
16
17
18
19
20
21
22
23
24
25
26
27
28
29
30
31
June 2018
S
M
T
W
T
F
S
1
2
3
4
5
6
7
8
9
10
11
12
13
14
15
16
17
18
19
20
21
22
23
24
25
26
27
28
29
30
July 2018
S
M
T
W
T
F
S
1
2
3
4
5
6
7
8
9
10
11
12
13
14
15
16
17
18
19
20
21
22
23
24
25
26
27
28
29
30
31
August 2018
S
M
T
W
T
F
S
1
2
3
4
5
6
7
8
9
10
11
12
13
14
15
16
17
18
19
20
21
22
23
24
25
26
27
28
29
30
31
September 2018
S
M
T
W
T
F
S
1
2
3
4
5
6
7
8
9
10
11
12
13
14
15
16
17
18
19
20
21
22
23
24
25
26
27
28
29
30
October 2018
S
M
T
W
T
F
S
1
2
3
4
5
6
7
8
9
10
11
12
13
14
15
16
17
18
19
20
21
22
23
24
25
26
27
28
29
30
31
November 2018
S
M
T
W
T
F
S
1
2
3
4
5
6
7
8
9
10
11
12
13
14
15
16
17
18
19
20
21
22
23
24
25
26
27
28
29
30
December 2018
S
M
T
W
T
F
S
1
2
3
4
5
6
7
8
9
10
11
12
13
14
15
16
17
18
19
20
21
22
23
24
25
26
27
28
29
30
31
= Available
= Not available
Events in Tuscany
People in Tuscany, as everywhere else in Italy, like to party. Festivals, fairs, markets and celebrations of any kind are held throughout the year. Along with Florence, Siena, Lucca, Pisa and Arezzo, most of the smaller towns and villages boast their own special events. Many of the festivals in Tuscany date back to medieval times keeping ancient tradtions alive. Food and wine play a major role in most of Tuscany's fairs and festivals allowing visitors to taste some excellent local fare. During your stay at our villas in Tuscany, we recommend to take part in at least one of the fairs held in the surrounding area to enjoy and experience true Tuscan lifestyle. Here below is a list of a few annual events but there are many many more all over Tuscany.
January and February
Siena International Guitar Festival
This festival held in
Siena
early January, pays tribute to different music styles including blues, jazz, classical and Latin. The evening begins with an aperitif and wine tasting
For information: Phone: +39 3398125729
http://sienaguitarfestival.blogspot.com/
Ticket: Euro 15 per person, aperitif included
La Cavalcata dei Magi - Ride of the three Wise Men
Every year in
Florence
on January 6th in the early afternoon a parade of people dressed in magnificient Renaissance costumes starts from Palazzo Pitti, across Ponte Vecchio, then to Piazza della Signoria and ends in Piazza del Duomo.
Free admission
Carnevale di Viareggio
Carnival is very popular in Italy and especially
Viareggio
along the Tuscan coast is famous for its elaborate Carnevale floats, often with satirical or political themes. They process through the streets of the town on each Sunday in February and on Shrove Tuesday. There is an extensive programme of related events with a large number of shows and carnival menus available in the restaurants of the area, festivals in several neighbouring towns, as well as many masked balls held in fashionable discotheques and ballrooms. Other Carnival festivals worth mentioning are the costume parade in
San Gimignano
and a similar masked procession in
Vinci
. Both parades are held the week before Ash Wednesday.
Olive and bruschetta festival
Spello
, an ancient town in Umbria close to Perugia, celebrates the olive harvest in early February. The olio nuovo (new oil) is drizzled over toast bread for a tasteful "bruschetta". With traditional music in the background.
For more information contact the Tourist office: +39 742-354-459
March and April
Palio dei Somari - Donkey Palio
Torrita di Siena
, a medieval town southeast of Siena, holds a donkey race on the first Sunday after March 19th. Just as with the famous Palio di Siena, different contradas, each with its own colours and coat of arms, compete for the prize, the so-called Palio. As you might imagine, the race is very entertaining with donkeys competing instead of horses.The Palio in Torrita di Siena is actually the culmination of week-long celebrations that include the opening of small local restaurants which serve typical Sienese cuisine, the presentation of the colourful Palio, and ceremonial dinners for the contradas.
www.paliodeisomari.it
Lo Scoppio del Carro - Explosion of the Cart
On Easter Sunday (end of March or early April) in
Florence
a 500 years old cart hauled by a team of white oxen and escorted by people in 15th century dresses, moves from Porta al Prato to the Piazza del Duomo. The cart is loaded with fireworks while a wire, stretching to the high altar inside the cathedral, is fitted with a mechanical dove - the "colombina" -. Shortly thereafter, during Easter Mass, the cardinal of Florence lights a fuse in the colombina with the Easter fire. It then speeds through the church to ignite the cart outside.The fireworks show that follows lasts about 20 minutes. A successful display from the "Explosion of the Cart" is supposed to bring good luck.
Rievocazione Storica della Passione di Cristo - Passion Play
On Good Friday in
Grassina
at a 10 minutes drive from Florence, five hundred residents participate in the play which recreates episodes of the last days of Jesus Christ. While a procession of people dressed like the Galileans and Romans of 2,000 years ago winds its way along the streets of Grassina, a succession of scenes from the life of Christ, accompanied by classical music, takes place on a nearby hill.This ritual has been played for about 4 centuries in Grassina.
Admission fee: seats 15€, standing 10€
http://www.rievstoricagrassina.it/
Coloriamo i Cieli - Kite Festival
At the end of April, beginning of May in
Castiglione del Lago
on the western shore of the
Trasimeno Lake
, around 10.000 kite flyers take part in the exhibition and even more spectators from all over the world meet during the four days the kites are flown. There are hot-air ballons as well, music and Slow Food stalls with local organic fare.
For further information call the Tourist office at +39 (0)75 9652484 - (0)75 9652738
May
Cantine Aperte - Open Cellars
Wine-festival held throughout
Tuscany
and some parts of
Umbria
during the last weekend in May. Most wineries open to the public for free tastings and visited guides of their cellars. Wine connoisseurs just love it !
For detailed information contact
[email protected]
Calendimaggio Spring Festival
The first week in May
Assisi in Umbria
welcomes Spring with a medieval festival. It lasts three days from Thursday to Saturday of the first week in May. Scenes of medieval life, costumes, parades and more. Calendimaggio is one of the biggest and best occasions to enjoy the Medieval atmosphere. Purchase your tickets in advance.
For detailed information: http://www.calendimaggiodiassisi.it/
Infiorata - Flower Festival
On the last Sunday in May
Scarperia
in the Mugello valley, 25km north of Florence, dresses itself in flowers to greet Spring. The historical centre of the town is strewn with a vibrant and fragrant blanket of flowers, gathered by the locals in the countryside. Local artists create original "paintings" using only flower petals, based on a different theme chosen each year.A feast for the eye! While in Scarperia, a visit to the Knives and Cutting Tools Museum might be worthwhile.More information at: www.prolocoscarperia.it
Balestro del Girifalco
Twice a year majestic and beautiful
Massa Marittima
in the Maremma area in southern Tuscany celebrates this festival which dates back to the 14th century. It used to be a celebration of abundance and independence and has now become one of the most impressive events of southern Tuscany. In Massa Marittima there are no horses. Instead, competitors arm themselves with authentic replicas of the 15th century Italian crossbows and try to hit a target - the girifalco - at a 30m distance. For one weekend, the history of Massa Marittima is brought alive once more in a true celebration of colour and music and crowds of passionate and enthusiastic locals. Contact:
[email protected]
Maggio Musicale Fiorentino - Musical May in Florence
During the whole month of May until early June
Florence
holds a series of classical music concerts including opera and dance recitals. This festival has become one of the most important musical events in Europe. The concerts and ballet performances take place at the Teatro Comunale (2000 seats) and sometimes in the open air. The main venues being Piazza della Signoria and the Boboli Gardens. For tickets and detailed programme: http://www.maggiofiorentino.it/
June
Gioco del Ponte - Game of the Bridge
Scenic event held every last Saturday or Sunday of June in
Pisa
. A parade of 700 people dressed in 16th century costumes preceeds the actual game. Then the two opposing teams representing the northern and the southern banks of the Arno river, meet at the Ponte di Mezzo where a 12m long iron cart on rails has been placed. Each team gathers at the two ends of the cart. From here, the participants try to push it on the opposing side as much as possible. The victory goes to the team, which has managed to push the heavy cart on the opponent's territory. Fireworks follow. Plan on getting there early to find a good place from which to watch. http://www.giocodelpontedipisa.it/
Calcio Storico Fiorentino - Historical Football in Florence
Fabulous fireworks along the Arno river conclude Florence's celebrations to St. John the Baptist, the city's patron saint, on June 24th. First, there is a parade in historical costume that starts at the Santa Maria Novella church and ends at the church of Santa Croce, where the Calcio Storico is then played in the dirt-covered square in front of it The game is a combination of football, rugby, and wrestling, all played while wearing 16th century costumes. The four teams represent the four traditional neighborhoods of the city: Santa Croce, Santo Spirito, Santa Maria Novella and San Giovanni. The prize is a whole Chianina calf.
More information: http://www.calciostoricofiorentino.it/
Festival dei Due Mondi - Two Worlds Festival
From the end of June until mid July the beautiful Umbrian town of
Spoleto
is the venue of a series of concerts, festival and performances of artists from all over the world.The atmoshere is just magical and we highly reccommend to attend to at least one of the events.
For the detailed programme visit: http://www.festivaldispoleto.com/
Estate Fiesolana- Summer of Fiesole
This music and theatre festival is considered as one of the oldest open-air festivals in Italy and hosts many international artists. It is held in
Fiesole
, the balcony overlooking Florence and lasts from June till the end of July. Most of the performances are staged in the remains of the impressive 1st-century-A.D. Roman theatre. For detailed information and programme visit: www.estatefiesolana.it
Giostra del Saracino - Joust of the Saracen
A medieval tournament which takes places on the third Saturday in June and the first Sunday of September In
Arezzo
. The jousters and their horses wear the colours and symbols of Arezzo's four districts, which are all hoping to win the Golden Lance. Rather than aiming their lances at each other, contestants score points by hitting a wooden target held by a carving of a Saracen (Islamic) king. Folklore and fun. For more information visit: www.lagiostradelsaracino.it
July
Umbria Jazz
A jazz festival held in
Perugia
This has been one of Europe's top jazz events for more than 30 years -- 2 weeks of performances, concerts, and jams from famous names and bands that cool out Umbria's capital during two weeks in July. During these two weeks Perugia becomes a meeting point for thousands of music lovers from all over Italy but also from Europe and the United States. For more information, contact the Associazione Umbria Jazz www.umbriajazz.com
Palio delle Contrade
On July 2nd and August 16th tens of thousands of visitors and locals come to
Siena
to watch the famous Palio. It is a colourful, bareback horse race round the Piazza del Campo where the contrade (traditional neighbourhoods) compete for the palio, or banner. The square is filled with costumed pageantry before the race, and massive feasts are set up on long outdoor tables that can stretch for blocks on the medieval side streets. The best seats sell out years in advance, but some are always available a few months before.
For more information visit: http://www.ilpalio.org/
Mercantia - Street Theatre Festival
The ever so beautiful medieval town of
Certaldo
between Florence and Siena, is the setting of a spectacular 4- days festival around mid July. Within its walls stages are set up to host clowns and comedians, contortionists and acrobats, puppeteers and ventriloquists, magicians and illusionists, fire-eaters and dancers, actors and street musicians.
Detailed programme: www.mercantiacertaldo.it
Puccini Festival
Opera lovers shouldn't miss this festival in
Torre del Lago Puccini
near Viareggio in the province of Lucca.Operas like "Boheme" and "Traviata" are performed in an open-air theatre close to Giacomo Puccini's house. Many performances in July and August.
Detailed programme: http://www.puccinifestival.it/
Festa Medievale - Medieval Festival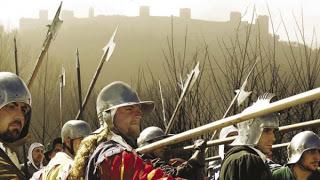 Every second and third weekend of July
Monteriggioni
near Siena hosts this festival where locals wear medieval costumes and sell antique-style handicrafts, herbs and medieval food. Re-enactments of medieval battles, parades and street theatre are held inside Monteriggioni's imposing walls. There are also puppet shows and illusionists much to children's delight. Monteriggioni itself is surely worth a visit.
For the detailed programme visit: http://www.monteriggionimedievale.com/
Lucca Summer Festival
A top musical event. For three weeks in July artists from all over the world such as Leonard Cohen, Brian Adams and Neil Young among others, join
Lucca
for a series of concerts. Buy tickets in advance!
For the detailed programme visit: http://www.summer-festival.com/
August
Festa della Padella - Frying Pan Fest
Fried fish along the banks of the
Trasimeno Lake
in Passignano. The festival is held the last weekend of August. In the world's largest frying pan 200kg of fish can be fried per hour. Enthusiasts of good traditional food are here in the right place !
Bravio delle Botti - Barrel Race
One of the most curious and bizarre events held in Tuscany in
Montepulciano
in the ever so amazing Val d'Orcia. The contestants have to push heavy wooden wine barrels uphill along the streets of the historical centre until they reach the Duomo Cathedral. On this occasion Montepulciano is even more beautiful than usual being adorned with colourful flags and decorations.
For more information: www.braviodellebotti.com
Bolgheri Melody Festival - Bolgheri wine and music festival
Music and wine - a perfect combination. For a whole month from mid July to mid August you can experience music, dance, theater and art while sipping a glass of local wine in some of Tuscany's best wineries. Most performances are held in
Bolgheri
, home to the exquisite Ornellaia and Sassicaia wines.
For more information: www.bolgherimelodyfestival.it
Calici sotto le Stelle - Drinking wine under the Stars
What could be more romantic than watching shooting stars with a glass of Chianti in your hand? Every year in August San Lorenzo's tears (Perseids meteor shower) light up the sky in Tuscany. The annual Calici sotto le Stelle celebrates this event with wine tastings, music and other entertainment in piazzas and wineries across the whole region.
Detailed programme: www.movimentoturismovino.it.
September
Fiera del Cacio - Pecorino Cheese Fair
On the first weekend in September, the beautiful Renaissance town of
Pienza
holds a festival dedicated to its number one produce: Pecorino - sheep cheese, which is supposed to be the best in Tuscany. Visitors can taste and buy many sorts of cheese and watch the "rolling cheese competition". The cheese rollers will throw the cheese making it roll as close as possible to a wooden cane in the middle of the main square.This game has ancient traditions and was played by each family in their yards. The cheese is firm and smooth so rolling it in a certain angle to make it reach a specific point is not easy.
Sagra Musicale Umbra - Sacred Music Festival Umbria
For ten days starting September 15 several towns in Umbria , such as
Perugia, Assisi, San Gemini, Montefalco, Castel Rigone, Torgiano and Solomeo
are the venues of some fine classical music concerts. The unique physiognomy of the Sagra Musicale Umbra, founded in 1937, derives from the union between the environmental and monumental beauty of spiritual settings and a music programme built around the historical and architectural distinction of the various venues where the Festival takes place.
More information at: http://www.perugiamusicaclassica.com/
Festa della Rificolona
Children carry colourful paper lanterns lit with candles from Piazza Santa Croce to Piazza Santissima Annunziata in
Florence
with a band leading the way. Once the children arrive, the piazza will be abuzz with music, dancing, and excessive sugar consumption. The celebration culminates in a "spontaneous" bonfire in the middle of the piazza in which the children delight as they watch their colourful creations go up in flames. The fair is held in honour of the Virgin Mary on September 7 each year.
For more information contact the tourist office: +39 (0) 55 290-832
Palio della Balestra - Crossbow Competition
Since 1441 this event takes place every year in
Sansepolcro
, the birthplace of Piero della Francesca in the province of Arezzo. Only in 1798 due to lack of funds it was not possible to play the game. Residents in period costume challenge the Umbrian town of Gubbio. The two teams have to hit a target with an ancient crossbow from a distance of 36 metres. The contest is held the second Sunday of September.
More information at : http://www.balestrierisansepolcro.it/
Rassegna del Chianti Classico - Chianti Wine Festival
On the second weekend in September
Greve in Chianti
is the venue of an important wine festival. About 50 Chianti wine-makers set up their stalls in the grand main piazza of Greve. Visitors just need to buy a wineglass and after that go and visit the stands where wines are tasted and sold. A heavenly experience for wine-connoisseurs!
October, November and December
Fiera del Tartufo Bianco - White Truffle Fair
In
Volterra
, a beautiful Etruscan town in the province of Pisa a huge celebration of food and wine, called Volterragusto, is held from the second weekend in October till November. The last two weekends are dedicated to this precious fungus, which you can taste and buy at stalls, savour at local restaurants or even join the hunters and their dogs in the countryside around Volterra.
If you're in Italy, it's a wonderful opportunity! And if you're not now, Volterra is amazing and well worth a visit!
Festa d'Autunno - Autumn Fair
In
Abbadia San Salvatore
, a small medieval town southwest of Siena in the Val d'Orcia,the annual Autumn Festival is held on the second and third weekend of October. Chestnuts and Porcini mushrooms picked at the nearby Monte Amiata are the main ingredients of the exquisite dishes prepared by the locals.There are also exhibitions of Tuscan artists,antique stalls, games and music.
It is mainly a celebration of the abundant gifts nature in Tuscany has to offer. It is surely worthwhile participating!
For more information visit: http://www.comune.abbadia.siena.it/
Mostra Mercato del Tartufo Bianco - White Truffle Fair
The beautiful Umbrian town
Gubbio
, near Perugia organizes every year on the last weeekend of October its famous truffle fair. Along with the so precious truffles, there are also local produce such as honey, wild mushrooms, cheese and salami on display. Gourmets love this fair.
For more information visit: : www.tartufointavola.it
Fiera della Ceramica - Ceramics Market
On the first weekend in October, Piazza S.Annunziata in
Florence
, becomes the venue of a colourful ceramics market. Unique works of artists and artisans from all over Europe are on display and some for sale too This is an unforgettable occasion to view the collections of international artists and find some unique pieces. The items on display are of the highest quality and range from majolica to the finest porcelain. There are objects for every day use and for decoration, as well as jewelry and sculptures in many different forms and colours. Children can participate to workshops under the loggias and create their own "masterworks".
For more information visit: : www.artedellaceramica.net
Festa del Vino Novello - "New Wine" Festival
In November several towns in Tuscany have their "new wine"festivals. We mention here the one held in
Montespertoli
at the doors of the Chianti Gallo Nero region. The new wine is light, slightly sparkling and doesn't last long. It goes along very well with roast chestnuts and is served in most restaurants during November. A great opportunity to taste the new local Chianti wine along with other autumn produce in a nice atmosphere.
For more information contact the Tourist Office ph.: +39 0571 657579
Festa dei Bringoli - Bringoli Festival
Bringoli are a special kind of pasta: thick handmade spaghetti of flour and water, no eggs are used. And the town of
Anghiari
near Arezzo dedicates the second weekend in November to this specialty. Plenty of new wine, chestnuts and brustichini. Brustichino is a bruschetta (toast bread with olive oil) with sausage.
For more information contact:
[email protected]
Olive Oil Festivals
November and December are very busy months in the Tuscan countryside. First with picking olives and then producing the precious "olio extra vergine d'oliva". The ancient method of cold pressing the olives with large mill stones is still in use by some farms. Whichever the method is, watching the oil extraction is quite an experience as well as tasting the "olio novo" - new oil on toast garlick bread. A must do during your vacation in Tuscany!